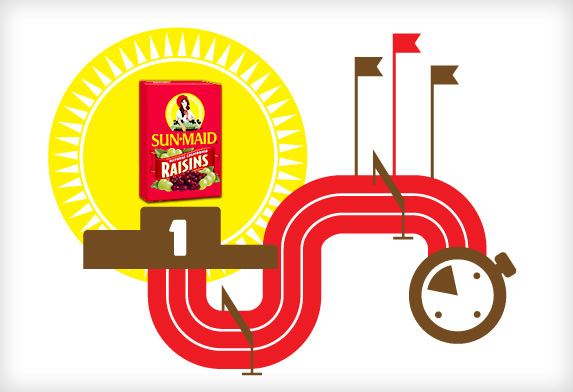 Another key finding was that the runners who ate the raisins used a greater amount of energy from fat vs. carbohydrates compared to the sport chews. This may be due to the natural fiber content of raisins and the lower glycemic index of raisins. The performance benefit for runners: utilization of fat allows muscle glycogen to be spared during the first part of a run so it's available down the stretch. Never underestimate the running power of raisins!
Raisins are an all-natural, dried-by-the-sun, no-added sugar food that you can feel healthy about eating.  Raisins are fat free, cholesterol free, and packed with antioxidants to protect the most important muscle in the body—your heart!  Just ¼ cup of raisins provides you with one serving of fruit and 31 grams of carbohydrates.
Other benefits: Raisins are a source of flavonoids and antioxidants, which can help reduce the impact of free radicals on your body's aging and development of disease. Raisins are one of the best sources of the mineral boron, which supports bone health. And a compound in raisins, known as fructans, is a pre-biotic that helps with digestive health.
Since that little red box of sunshine you carried in your lunchbox as a child is just as convenient as a modern day chew with similar performance effects—not to mention the added nutritional boost that comes along with them—why not give raisins a try as part of your running routine?